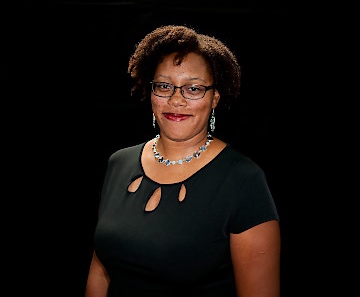 Jasmine Wade is obsessed with the ridiculous, and oftentimes traumatic, trials of growing up. Her short stories have appeared in Drunken Boat, TAYO Literary Magazine, Lunch Ticket, The Copperfield Review and others. She is an alumna of VONA/Voices and Mills College's MFA program. She has won the Edward P. Jones Short Story Contest and was a finalist for the Hurston/Wright Founding Members Award for College Writers. When she's not writing, she's usually buying or reading more used books than she has space.
Jasmine H. Wade interviewed by Sandra Fluck
Congratulations on receiving the 2017 Edward P. Jones Award for Excellence in the Short Story. Is this award also known as the Pen/Malamud award? Did you receive it for a collection of short stories or a specific story?
Thank you! No, the PEN/Malamud Award is through the PEN/Faulkner Foundation. The Edward P. Jones Award is through the AfroSurreal Writer's Workshop. I received it for my story "Shadow of Death," which originally appeared in Drunken Boat.
When you were a child, what is the first story you remember writing? Did you realize then that you wanted to be a storyteller? Was it a conscious evolution or did you fall into it?
The first official story I remember writing was a mystery about a boy who followed a set of clues to catch a gorilla thief. I remember having a lot of fun coming up with the clues for my protagonist to follow. I'm sure I wrote stories before this one, but that was the first time I ever sat down and truly crafted a story rather than freewriting. I knew then, in middle school, that I was a storyteller. I also knew that stories were fundamental, for me, to surviving adolescence. They gave me a sense of peace and purpose. This is possibly in part why I write young adult stories in addition to stories for adults. I know how crucial the right story can be to a kid.
I wouldn't describe it as a completely conscious evolution. The same year I wrote that story about the gorilla thief, I was also telling everyone who would listen that I wanted to be a Supreme Court Justice. It took several years for me to come to writing as a career path.
When you are describing your short stories to readers who are unfamiliar with your work, what do you tell them? How would you describe your story "Shadow of Death?"
When I'm describing my work in general, I say I write about growing up. My stories may be young adult, fantasy/sci-fi, or literary, and they are always about growing up. I think I might be a little obsessed with the subject. I also like it because I could argue that growing up never really stops. Ideally, we're constantly growing, learning, and evolving. I'm particularly interested in aspects of growing up during adolescence and questions around motherhood as they relate to growing up. I write a lot about mothers and daughters, as you can see in "I Love You, I Hate You, Don't Leave" and "Shadow of Death."
"Shadow of Death" is about a female being who looks human but is actually a species that has to kill every ten years, starting on her 25th birthday, in order to stay alive. The story includes the days leading up to her birthday where she wrestles with the decision of whether to kill and live or not kill and die. I don't want to spoil things, but it gets a bit complicated.
Some of your short stories seem to cross genres or subgenres, such as speculative fiction, Afrosurrealism, the fantastic, maybe even "horror"? Does "Peppermint and Memories" fit any of the above? Other stories you have written?
"Shadow of Death" is definitely one of those categories (maybe fantasy or speculative, depending on how you define speculative). It's interesting that you ask about "Peppermint and Memories." I think that story can be interpreted in a number of ways. If you read it one way, it's AfroSurreal with maybe a touch of horror. If you read it another way, it's a man experiencing psychosis as a result of grief. I enjoy stories that blend the fantastic with reality.
You have taught writing workshops at Mills College in Oakland and in the Oakland community. How has your teaching experience found its way into your storytelling?
Well, I like to think I'm better at grammar now after teaching it so intensely. But more generally, I think of lesson plans and semester-long plans as narratives. The way I build lessons all semester, increasing in intensity, to a high point (final paper) is similar to the way I build scenes in a story toward a climax. I also think my storytelling and my teaching are similar in style. My stories can be intense, a little funny, kinda quirky, and that's how I am as a teacher.
The Oakland community is a thriving literary hub for writers and writing workshops. What projects/programs/centers are you involved with? How has it served your development as a writer? As a teacher?
I earned my MFA at Mills College and am still involved in that community. I made a number of wonderful connections there. I'm also involved with Liminal, a feminist/womanist writing space in East Oakland. I love Oakland for the wealth of programs and events it offers. Any given week, I'm able to attend readings, public conversations, and other events. Being a part of a thriving literary community helps keep me focused. Sometimes a good reading can be like an intellectual laxative if I'm having trouble writing. I'm also constantly learning from people in the community about how to think about story, how to approach story, and different writing styles. I keep a running list of the books I learn about at events, and that list is long! There's also something about Oakland, perhaps as the birthplace of Black Lives Matter and the Black Panthers, with its vibe and history that keeps me grounded and reminds me of why I write what I write.
Being a part of a thriving literary community helps keep me focused. Sometimes a good reading can be like an intellectual laxative if I'm having trouble writing. I'm also constantly learning from people in the community about how to think about story, how to approach story, and different writing styles.
As a freelance writer and curriculum developer, what is your background in educational curriculum development? Do you develop curricula about "writing" or "reading" or both? What are the titles of your publications?
I could argue that I started curriculum writing right around the time I started writing stories. In middle school, I created fake tests and quizzes for my friends to help them study. It was incredibly fun for me. (yes, I know…super-nerd) When I got to Princeton, I took classes in their Program in Teacher Preparation and learned how to actually write curriculum. I write mostly history/social studies and English curriculum for a variety of places. I've written lesson plans, assessments, and fun workbooks. I guess you could say it's all about writing and reading.
What is the "Reading for Relevance" program?
Reading for Relevance is a curriculum from Moving Forward Education. The curriculum consists of literature guides. I create what is essentially a handbook for teachers to teach a particular book from beginning to end. The focus is Social and Emotional Learning, which allows students to build empathy while improving their reading and writing skills. Moving Forward emphasizes books by authors of color about kids of color with reluctant readers in mind.
We at bookscover2cover are passionate about books, and some writers say that reading books made them want to become a writer. What books are you passionate about?
Oh, my gosh! Where to begin? Dreamland by Sarah Dessen is the book that saved me when I was a teenager. It helped me feel seen. I come back to that book when I need to remember why representation is important and why sometimes it is important for characters to suffer. It serves the story, and it helps the reader. It can be tempting sometimes, especially when I really like a character, to protect them. That makes for pretty boring stories though, and it doesn't do what I needed as a reader, which was to know that sometime else could feel the way that I felt. I want to someday write a book that is for some child what Dreamland was for the 13-year-old me.
Octavia Butler's Wild Seed is another book that is fundamental to my writing practice. Wild Seed directly inspired "Shadow of Death" and has awakened an interest in ancestors as they relate to the process of growing up. This is a topic I'm exploring in the stories I'm working on currently. There are a million others: Mama Day by Gloria Naylor, Madness by Marya Hornbacher, This is How You Lose Her by Junot Diaz, The Color Master by Aimee Bender, The Lone Ranger and Tonto Fistfight in Heaven by Sherman Alexie.
What books would you recommend to high school and college students that speak to the zeitgeist of the first quarter of the 21st century?
Mama Day by Gloria Naylor because whether we realize it or not, we're drawing on ancestor power to move through current trials.
Parable of the Sower by Octavia Butler because she is prophetic.
Boy, Snow, Bird by Helen Oyeyemi because the first quarter of the 21st century feels a little like a retelling of certain portions of the 20th century.
Days of Abandonment by Elena Ferrante because it's nearly impossible to stay completely sane when our world goes crazy. Confrontation with our particular brand of crazy is necessary to moving forward.
Aristotle and Dante Discover the Secrets of the Universe by Benjamin Alire Sáenz because everyone growing up should have a good friend and a good dose of truth.
What are you working on now?
I am working on two young adult novels and various speculative short stories. I'm never working on just one thing.
What advice do you give to a student who tells you she or he wants to be a writer?
Don't get caught up too much in thinking about being a writer. If you want to be a writer, write. And know that it's a process and a craft that requires careful study and patience.