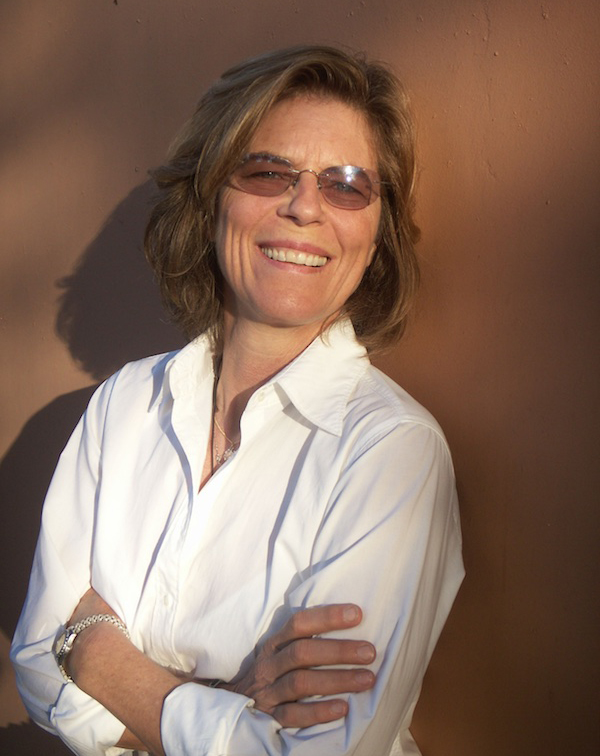 Mona Houghton has published stories in Carolina Quarterly, Crosscurrents, Bluff City, West Branch, Oracle, Livingston Press' Tarts 2, Harpur Palate, and Corridors. She has won the John Gardner Memorial Prize for Fiction for her story "A Brother, Some Sex, and an Optic Nerve," and first place in the Inconundrum Press "Melville Novella" contest. Mona taught writing at California State University Northridge and is currently working on her second book.
Mona Houghton interviewed by Sandra Fluck
You are the author of two novellas,
Frottage & Even As We Speak
. How would you describe the reading experience of this work to someone who is not familiar with novellas?
I think of a novella as an arrow shot through a novel. In other words there is the 'story' that it tells and there are the inferences to the 'novel' that isn't on the page. Those threads and subplots and tangents not on the page may resonate but it is up to the reader to determine how big the arrowhead is. What makes a novella different from a short story isn't just the length. Both have much that is implied (not on the page) but the novella's implications are perhaps broader in scope. (And I don't mean to lay it all on the reader. The writer of the novella needs to plant that which is not on the page.)
Which authors have influenced you? Any who influenced the stories in Frottage & Even As We Speak? Any who influenced the style?
I find the question as to authors who have influenced me to be the hardest to answer. The answer changes weekly—and now I that I have been reading for so long I have too many weeks to account for. There are books that left me with 'feelings' and those 'feelings' drove me to writing. If I write a story that arouses those 'feelings' in me I feel I have met my intention as a writer. Here is a list, in no particular order, of some of the writers who come to mind as far as influences go: Alice McDermott That Night: A Novel, Lisa Alther Kin-Flicks, Thomas Pynchon V., Jayne Ann Phillips Black Tickets: Stories, all of Alice Munro, many George Saunders stories, many novels and short stories by Annie Proulx, Thomas Keneally The Chant of Jimmie Blacksmith, Vance Marshall Walkabout, the short stories and novels of Katherine Haake, Rod Val Moore, Yasunari Kawabata, and W.G Sebald. At some point one has to stop.
The influences on Frottage: I have always admired and enjoyed reading epistolary novels. The 'letters', and the context they are written in, is all the writer (and the reader) has to work with. Both The City and the House by Natalia Ginzberg and The Color Purple by Alice Walker made me want to take on the challenge of telling a complicated story in letters.
I worked on Frottage for a long time. I wanted to tell the whole story with letters from only one character. That was a struggle. I never considered using letters from another character in the text, but at times, out of frustration, I did try including standard narrative, but I never stuck with it. And I am glad I didn't. First of all, it would no longer have been an epistolary novella. Secondly, I think that constraint really forced my hand, made Frottage its own particular story. Since writing Frottage, I have written several short stories using the form. I find the form lets me slide into a character's world and inhabit it wholly.
As to Even as We Speak: I read a book as a teenager that always stayed with me. I have no idea of the title or the author, but I remember its construction. There were four or five chapters in a book of about 200 pages. Each chapter addressed a group of characters and a series of events in which they alone were involved. (Most of the content of each chapter used a family setting.) At the end, these totally separate 'lives' came together. What struck me then (at age fourteen or fifteen) was the 'truth' in this, how you walk into a room and everyone there has as much or more baggage than you have. (One of those light bulbs went off over my adolescent head.) When I started Even As We Speak that was the challenge I presented to myself. But in this novella I all but start with all the characters thrown together and then step back and in small discrete sections, each devoted to one character's actions, work forward from an inciting incident that results in their presence in the NOW. These discrete sections (BEFORE NOW) are related to each other only by time. I then return to the beginning of the book (NOW) and then push into the future—and conclude with AFTER NOW which details the 'effects' of the events that take place in the NOW. So we have these sections: THE BEGINNING, NOW, BEFORE NOW, and AFTER NOW. The other goal I set for myself is that I really did want contented endings for these characters. They are all deeply flawed (isn't that just like real life?), and yet they are okay in the end. I know this sounds corny, but I did have that in mind all along.
You have taught Creative Writing in the California State University system for ages. What books have you included in your class syllabi over the years? What "method" or methods have you used to teach writing?
As a teacher of Creative Writing, my goal was to have students experiment with their writing practices. Because of the nature of the classes, we read contemporary short stories. My students' goals were usually to publish in literary journals and so I culled stories, mostly from journals, that I like and that use a variety of styles and/or constraints. My favorite literary journals to turn to inlcude: 100 Word Story, The Antioch Review, Jubilant, The Best American Short Stories, The Missouri Review, Black Warrior Review, Carolina Quarterly, Crazyhorse, Story Quarterly – 40, 41, 42, Indiana Review, Alaska Quarterly, Quarterly West, 2River View, Santa Monica Review, Cimarron Review, The Southwest Review. Some semesters I focused on stories from The New Yorker.
What method or methods do use when teaching writing?
I have always been a big reader, since childhood. I often tell my creative writing students that they need to learn to read as writers, in other words, to ask themselves, "How does the writer shape the reader's experience?" With that in mind, when we read a novel or a short story, or a poem, for that matter, if we are alert to the construction of the text, our reading experience is all the more rich. The writer, Zadie Smith, says this in an interview:
"But the problem with readers, the idea we're given of reading is that the model of a reader is the person watching a film, or watching television. So the greatest principle is, "I should sit here and I should be entertained." And the more classical model, which has been completely taken away, is the idea of a reader as an amateur musician. An amateur musician who sits at the piano, has a piece of music, which is the work, made by somebody they don't know, who they probably couldn't comprehend entirely, and they have to use their skills to play this piece of music. The greater the skill, the greater the gift that you give the artist and that the artist gives you. That's the incredibly unfashionable idea of reading. And yet when you practice reading, and you work at a text, it can only give you what you put into it. It's an old moral, but it's completely true."
I couldn't agree with her more.
Since you began teaching, what difference, if any, have you observed among students regarding their enthusiasm for reading literature? Did the advent of the smartphone influence a change in your teaching style?
I started teaching at California State University Northridge in the English Department in 1990. Early on I'd say the students were better read when they arrived and that they willingly embraced opportunities to read. Of late there has been a gradual decline in both of these areas. Many students who are not English Majors don't read fiction, nor are they expected to read fiction. They are expected to have some reading comprehension skills, but are quite happy with 'just the facts, ma'am'. In the last five years I taught I often found that requiring undergraduate students, even those in a creative writing class, to read a short story much longer than ten pages elicited groans of despair. Of course I am speaking percentages here. Many students arrived from high school with solid literature backgrounds, and many who had had limited exposure to fiction, when given the opportunity and were required to read closely, discovered the pleasures and were excellent students of literature and writing. But, generally speaking, I think the quick fix that smartphones give to users isn't very positive if a well-informed and thoughtful community is the goal of the university. We can get a lot of facts from our smartphones, but I am not sure they encourage us to think. (I am as guilty of overusing my smartphone as any fifteen year old. I find myself cruising the net when, in the past, I would have had my nose in a book.)
As a child, what books did you read? What were your favorites? Why?
I read a lot as a kid and can't even imagine listing my favorite books. I will try. Writers: A. A. Milne, Marjorie Rawlings, Crockett Johnson, E. B. White, Robert McCloskey, Beatrix Potter, Lewis Carroll, Robert Lawson…I could keep going for pages. My family did not have a television set until I was about eight years old. My time in front of it was limited to an hour a week, I think. Books were everywhere and like a million kids, I spent many a night under the covers with a flashlight and a book. I still can't go to sleep without spending at least twenty to thirty minutes reading, a novel preferably. I can't imagine how any one gets to sleep without a fiction coming between the day-to-day hassles of 21st century life and the land of nod.
I choose these as my favorites because I remember the stories and the names of the writers (I admit I had to Google a few author names.). I remember The Yearling, by Marjorie Rawlings, not only because it was a fantastic book, but it took weeks and weeks for my mother to read it to my brother and me. The whole book resonates with all that was wonderful about those hours: my mother's voice, the blue blanket on my parent's bed, my brother and I, side by side, listening.
What books have influenced you or in some way deepened your understanding about the humanities, life, and the world?
I would say that the books and writers I have mentioned so far in this interview are all writers and books that have certainly deepened my understanding about life and the world. Picking a few is a daunting task.
Murakami. What a complicated and wonderful mind he shares with his readers. He has opened up doors and given me views I never expected to see. Kafka on the Shore and 1Q84 (Vintage International)
Pynchon—I haven't read the book in decades but when I was nineteen or twenty and read V, afterwards I was a changed person.
W. G. Sebald—especially his book Austerlizt .
Donald Barthleme—Many of his short stories have had a big impact on my understanding of how fictions can reflect the world, fractured perhaps, but still the world, back to its readers.
Robert Coover
Nabokov – Lolita, because it is such a beautifully written book. The depth of empathy brings me back over and over again.
Norman Lewis. His books about traveling make me want to hit the road.
This is an impossible question to answer thoroughly.
Marilyn Robinson—Last year I read and re-read her books. Gilead, Home, and Lila
Cormac McCarthy—Most of his books. The Road. I finished that book and immediately turned back to the first page and began reading it again. I wanted to know, to find out how he made me feel the way that book made me feel. And I wanted to embrace its language, the cadences of the sentences.
Herta Müller — The Appointment. This book certainly deepened my understanding about the world.
What books are you reading now?
This is a funny question for me, at the moment. I just took a trip to Germany and have probably read more non-fiction in the last few months than I have in decades. As to fiction:
HHhH: A Novel by Laurent Binet
Middlemarch by George Elliot
The Berlin Stories by Christopher Isherwood
At this very moment I am reading Sapiens: A Brief History of Humankind by Yuval Noah Harari.
On my to read list:
Angel of Oblivion by Maja Haderlap
Missing Person by Patrick Modiano
The Museum of Unconditional Surrender by Dubravka Ugresic
What is your favorite genre?
I am an omnivore, but mostly I gravitate to contemporary fiction.
You are writing your second book. How is this experience different from writing Frottage & Even As We Speak? What is this book about?
When I wrote both Frottage and Even As We Speak, I was determined to write two novellas. Before writing these two novellas I had only written short stories and now I am back to them. What I would love to do is write a novel, but I am not sure I have that talent. I am a big reader of novels, but I can't seem to get a handle on making one. I am keeping my mind open to the possibility but more realistically I hope I have a few more novellas in me.
I never really know what a story is about (a short story or a novella) until it is finished. I keep to pretty contemporary themes. I've tried my hand at a couple of dystopian stories, as that is (was) the rage. I've written a couple of post-apocalyptic stories, but I always feel like I am copying someone else. I think what talent I have lies in the here and now.