Image attribution: 美国之音海彦拍摄, Public domain, via Wikimedia Commons
"The unique thing about man is that he is capable of being aware of his tragic fate; he can be aware of the fact that he will die; he can be aware that the ultimate meaning of the universe and life itself is unknowable. A nation that is without an awareness of tragedy and death is to some extent a nation that is still in the mists of primal ignorance." Liu Xiaobo, "A Critique of China," in Geremie Barmé, "Confession, Redemption, and Death: Liu Xiaobo and the Protest Movement of 1989," in The Broken Mirror: China After Tiananmen, edited by George Hicks (Longman, 1990).

"Moreover, I am cognizant of the interrelatedness of all communities and states. I cannot sit idly by in Atlanta and not be concerned about what happens in Birmingham. Injustice anywhere is a threat to justice everywhere. We are caught in an inescapable network of mutuality, tied in a single garment of destiny. Whatever affects one directly affects all indirectly." Dr. Martin Luther King, Jr. "Letter from a Birmingham Jail," April 16, 1963.
"Dictatorships need lies and violence in order to maintain the coercion and fear upon which they depend . . . . To refuse to lie in day-to-day public life is the most powerful tool for breaking down a tyranny built on mendacity." Liu Xiaobo, No Enemies, No Hatred: Selected Essays and Poems.
---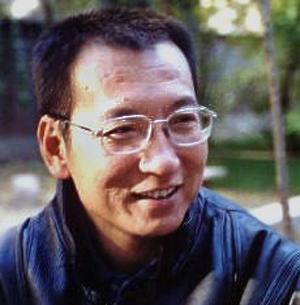 When the Norwegian Nobel Prize Committee awarded the Nobel Peace Prize to the Chinese dissident Liu Xiaobo on December 10, 2010, he had already served one year of an eleven-year sentence at Jinzhou Prison for "incitement of subversion of state power." The Chinese authorities were furious that the Norwegians had awarded Liu – a "convicted criminal" – such a prestigious prize. They suppressed celebrations inside China, warned foreign diplomats not to attend, and broke off trade relations with Norway. They also barred Liu's wife Liu Xia and family and friends from attending the ceremony, where the Nobel Committee had placed the prize medal box and certificate on an empty, high-backed chair on the stage. A large portrait of Liu stood in his stead. He was the first Chinese person living in Mainland China to be awarded the Nobel Peace Prize, and the second laureate of the Prize to die in prison.
In 2012 Perry Link et al. published No Enemies, No Hatred: Selected Essays and Poems, the first English translation of Liu Xiaobo's collective writings. Liu had completed two years of his eleven-year sentence; this was not his first detention in a Chinese jail, but it was the longest.* Sending him to Jinzhou, the authorities believed they could at minimum get rid of this dangerous "thorn in their side" and hope that he would be forgotten, never to speak another public word. He was already sick with chronic hepatitis. Did the authorities suspect this fourth incarceration would be a death sentence? Indeed, on July 13, 2017, Liu Xiaobo died of late-stage liver cancer in the prison ward at China Medical University in Shenyang, China, four years before his release. The authorities had rejected his request for permission to go abroad for medical treatment. Liu Xiaobo, China's most famous dissident, was forever silenced.
Given the authoritarian grip that President Xi Jinping and the Politburo have on Chinese society today, it is hard to believe that there was an opening in the 1980s for liberal thought. Liu was already known as a "public intellectual," popular with his students at Beijing Normal University, where he lectured after receiving his Ph.D. in Chinese literature in 1988. An "iconoclast" and caustic critic of Chinese literary and cultural writers, he was versed in Western thought and democratic governance, seeing the latter as a possible paradigm to emulate. The title of his Ph.D. dissertation offers a clue to his thinking: "Aesthetics and Human Freedom."
In spring 1989 when the pro-democracy movement began to coalesce in Tiananmen Square, Liu was a visiting scholar at Columbia University in New York City. He felt an urgent need to return to Beijing to participate in what he sensed was a timely moment to demand of the Chinese government economic reform, freedom of the press, and political liberalization. On June 2, Liu and three friends staged a hunger strike to show solidarity with the protestors, but the strike was eclipsed on June 3 when military tanks entered the Square and killed whoever was in their way—indiscriminately and brutally. Liu and his friends negotiated a path for the protestors to leave the Square peacefully, saving hundreds of lives, but Liu himself sought refuge in a foreign diplomatic quarter, an act that caused him deep remorse and shame. He was haunted by these "souls of the dead" for the rest of his life.
For his part in the Tiananmen Square pro-democracy movement, he "was thrown into prison for the crime of spreading and inciting counterrevolution." On June 6, 1989, this "black hand" was sent to Qincheng Prison, a maximum-security prison in Beijing where he spent the next eighteen months. When he was released, he lost his teaching job at the university; his writing was banned; and he no longer could lecture publicly—this for "expressing different political views and for joining a peaceful democracy movement."
Although the government's intention was to silence him, Liu Xiaobo continued to write essays and criticism throughout the 1990s and 2000s, offending the party elite and anyone else who hewed to the party's dogma. He saw clearly that one-party rule made freedom of conscience inconceivable. Because his writings were banned, they were spirited out of the country and disseminated in Taiwan; in magazines in Hong Kong such as The Open Magazine and Cheng Ming Monthly; and in U.S.-based magazines such as Beijing Spring and Democratic China. The Internet was a lifeline: His friends evaded the "Great Firewall" and sent him articles that China had censored. He was under continual surveillance and in 1995-96 under house arrest. In 1996, it appears that the government had had enough, and he was sent to a reeducation-through-labor camp in Dalian for three years. His offense: signing a statement questioning the legitimacy of the government of the People's Republic of China in its relationship with Taiwan. This was his third incarceration.
In late 2008, Liu signed Charter '08, a citizen's manifesto to return power to the citizenry through a constitutional government, and he solicited hundreds of signatories, agreeing in the last days before it was announced to be its leading sponsor. Charter '08 was everything the Chinese government did not champion: freedom, equality, and human rights within the framework of a democratic and constitutional government. The ideals of humanism, nonviolence, and freedom of conscience pervaded the document. Although it was not a petition to the government and confrontational language was excised at the behest of Liu, the essence of Charter '08 was simple: Create a democratic system that upends Communist Party rule. It was signed by 12,000 people.
Charter '08 was not a radical document, considering that many of the rights identified in the document were enshrined in two United Nation covenants, which China had signed: the International Covenant on Civil and Political Rights (signed in 1998 but not ratified); and the International Covenant on Economic, Social, and Cultural Rights (signed in 1997 and ratified in 2001). For Liu, the former covenant incorporated the essence of democratic reform: "Respect for the civil and political rights of individuals, including the right to life, freedom of religion, freedom of speech, freedom of assembly, electoral rights and rights to due process and a fair trial."
As the leading sponsor of Charter '08, Liu was the government's target. Arrested on December 8, 2008, he spent six months under police surveillance; formally arrested on June 23, 2009; and held for six months in Beijing No. 1 Detention Center until his trial on December 2009. He was found guilty of incitement of subversion of state power on December 25, 2009, and sentenced to eleven years in Jinzhou prison. This was his final incarceration and his death sentence. The Chinese government removed him from society, and even on his deathbed prohibited him from speaking his mind one last time. Upon his death, the government has blocked any mention of his name on Chinese social media, thus conclusively stanching any outpouring of grief and support.
***
After Liu Xiaobo won the Nobel Peace Prize in 2010, I followed the news about him—this dissident public intellectual who had given the Chinese government a major headache. Having read many books about nonviolent thought and action, I sensed that Liu Xiaobo's life and writing could deepen my understanding further: He believed that words followed by action could change the direction of a country. When No Enemies, No Hatred was published, I immersed myself in Liu's essays and wrote a longform review for bookscover2cover.com. When he died in July, the world had lost a deeply profound soul. He was a person of great moral courage whose government tried to control him but, like most autocratic governments, the most permanent solution was to make him disappear.
I wanted to write about Liu's moral courage and nonviolence as he confronted an insufferable power over his life. I read in memoriam articles—none, of course, would be published in China—and returned to No Enemies, No Hatred to see what I had missed when I wrote the review. Perhaps it was inevitable that I would miss the essence of the man himself, given that No Enemies, No Hatred was my first encounter with his writing. In hindsight I realized that I hadn't understood the depth of his conviction in the dignity of the individual and the right to the freedom of one's conscience. Liu could not abide a tyranny of the mind. How could he? "Literary inquisition" was anathema to him.
While Liu was at Columbia University, he visited the Metropolitan Museum of Art and experienced a revelation so profound that he wrote an "Epilogue" to his book, Chinese Politics and China's Modern Intellectuals (1990), which, at that time, was in the pre-publication stage. In the "Epilogue" he wrote: "But on the other hand, this book may have no value at all in matters such as the fate of humanity, the future of the globe, or fulfillment in the lives of individual human beings . . . The book has value only as a kind of cultural detritus; its two shortcoming are the narrow nationalism of its outlook and its blind obsequiousness toward Western culture."
Perhaps it was inevitable that I would miss the essence of the man himself, given that No Enemies, No Hatred was my first encounter with his writing. In hindsight I realized that I hadn't understood the depth of his conviction in the dignity of the individual and the right to the freedom of one's conscience.
We don't know from the "Epilogue" specifically what he experienced at the Met, but we can infer from his writings that whatever it was disturbed him deeply enough that he refuted the substance of a nearly published book. We can know from this essay that the revelation (or revelations) led him to two conclusions. First, Western culture could not be a tool to regenerate China as a nation, and to be an authentic person he had to be critical about everything. There was something else that seemed even more significant: "It also requires concern for the fate of all humanity and for the incompleteness of the individual person." (My italics) Second, he concluded no culture "can help humanity once and for all eliminate spiritual suffering or transcend personal limits. Humanity has built weapons that can extinguish all of humanity in an instant, and there is no escape from the fundamental anxiety that results; it has become part of the backdrop of every person's life."
Liu's revelation, it seems, humbled him. He admitted that he was unable to transcend his materiality and escape the oppressive nature of a government that controlled what he could think and how he could act. His own incompleteness must have frightened him, as it must for anyone who thinks about this metaphysically. We are, as humans, incomplete, and it takes some doing to fill the gap, if ever we can, between materiality and transcendence. Still, in our physical capacity, we are capable of protecting our freedom, refusing to believe the lies that we are told, and reflecting critically about our humanity: who we are, what we are, how we can become more complete. Liu Xiaobo believed that "to do anything less is to surrender the meaning of life, to sell one's personal dignity, and to lose sight of what it means to be a human being. Nothing can substitute for individual responsibility."
Aware of the incompleteness of the individual person, Liu saw freedom of conscience as a specifically human need to grapple with this existential dilemma. He fought nonviolently against tyranny over the mind—whatever its source—and for a humane and just political system. His death has been a huge loss for human rights.
*Liu Xiaobo was detained for eighteen months on June 6, 1989, three days after the massacre in Tiananmen Square. In May 1995, he was detained for seven months ostensibly for releasing a petition for the rule of law, on the sixth anniversary of Tiananmen. On October 8, 1996, he was sent to a reeducation-through-labor camp in Dalian for three years. According to Link, he seemed "to have found his deepest faith in the concept of 'human dignity'" during this incarceration. The fourth and final time was soon after the publication of Charter 08. The police held him in detention for six months then formally arrested him on June 23, 2009, charging him with "incitement of subversion of state power." He was held at the Beijing Number 1 Detention Center until his trial in December 2009. On May 24, 2010, he was transferred to Jinzhou Prison where he remained until he was transferred to the prison ward at the Medical University in Shenyang where he died.
Sources
Perry Link, Tienchi Martin-Liao, & Liu Xia, Eds. Liu Xiaobo, No Enemies, No Hatred: Selected Essays and Poems. Massachusetts: Harvard University Press, 2012, pp. xiii-xxi, 322, 301, 315, 117, 118, 123, 294.
Chris Buckley, "Liu Xiabo Dies at 61; Dissident Won Nobel While Jailed in China," The New York Times, July 14, 2017, pp. A1, A9.
Perry Link, "The Passion of Liu Xiaobo," The New York Review of Books, July 13, 2017. (Digital)
Simon Leys, "He Told the Truth About China's Tyranny," The New York Review of Books, February 9, 2012 reprinted July 13, 2017. (Digital)
Ian Johnson, "Liu Xiaobo: The Man Who Stayed," The New York Review of Books, July 14, 2017. (Digital)