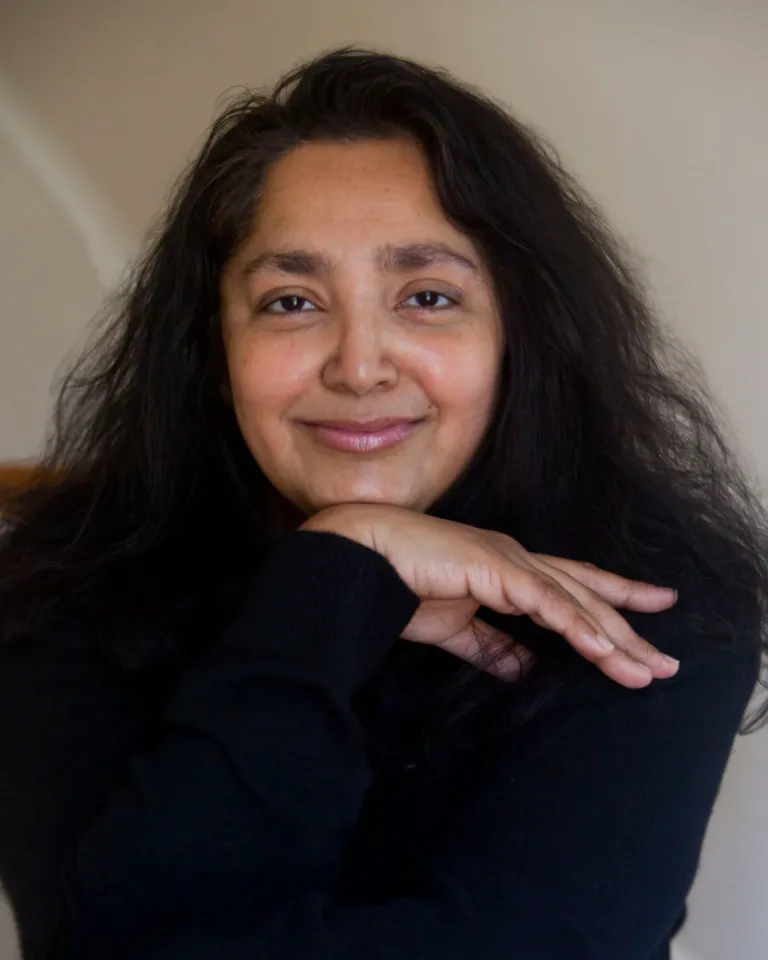 Chaya Bhuvaneswar is a physician and writer with work in Narrative Magazine, Tin House, Electric Lit, The Millions, Joyland, Michigan Quarterly Review and elsewhere. Her poetry and prose juxtapose Hindu epics, other myths and histories, and the survival of sexual harassment and racialized sexual violence by diverse women of color. She has received a MacDowell Colony fellowship, Sewanee Writers Conference scholarship and Henfield award for her writing. Follow her on Twitter at @chayab77 including for upcoming readings and events.
Chaya Bhuvaneswar interviewed by Sandra Fluck
White Dancing Elephants is your debut collection of seventeen short stories, fourteen of them told from a woman's point of view. The stories are as different from each other in plot, voice and mood as the women characters that take center stage. Who are these characters? Where and how did you find them?
This is such a wonderful question, because I do believe, like implied here, that characters "find" us and they aren't consciously "designed" by the writer, ever. Mostly, my characters come from some life I've ever imagined myself living OR a friend or family member I've always wanted to write about and feel compelled to write about in some disguised form.
Some of the stories, like "White Dancing Elephants," "Orange Popsicles," "Newberry," and "In Allegheny," are told from the point of view of a single protagonist. Others, like "Talinda," "A Shaker Chair," and "Adristakama" involve two women, whose lives seem interdependently fated. In writing the stories from the point of view of a single character, what was the controlling factor? The controlling factor in the stories that involve two women?
I appreciate this observation. I think there is more of an "autofiction" component (autobiographical fiction) component to the stories from a single POV. These first-person female narrators are definitely absorbed in surviving the "aftermath" of something, as the Kirkus reviewer pointed out. On the other hand, the stories involving two women are so much about mirroring, projection, identification, lost love, now that I think about it, but what I love most about writing fiction is that I never consciously think of or control any of these things.
"Orange Popsicles" is one of the most powerful stories in the collection, and it is as if you had known women who had gone through this experience. Please summarize the plot of "Orange Popsicles." What was your first insight about the story; that is, where did it begin with you? Did you struggle with the characters? The plot?
Thanks so much for bringing forward this story of rape and survival. Yes – I did know someone, not well but enough to feel horrified when I learned what happened to her. She was in college with me and like the main character, Jayanti, in this story, she was gang-raped. I knew I wanted to tell her story in some form while at the same time respecting her anonymity and her own right to tell her story any way she wanted. As I thought about that dilemma – did I have the right to tell her story at all? – my own interpretation evolved, in part a story of how many other people compete with survivors to tell our stories. Becca, the feminist and activist. The sorority sister friends of the male perpetrators. Dave, the "villain" who has his own fretful, weirdly anxious yet arrogant telling. It was important to me to keep them as they were while making Jayanti the center, the person who changes.
You are a practicing physician, and the detail in "Orange Popsicles" and other stories comes from an understanding of human physiology. How has your being trained in the medical profession helped you write these stories?
I think on the one hand, there's such a celebrated tradition of "doctor writers," and many of them have observed, like Chris Adrian for example, and like Ethan Canin (who didn't finish his residency but came right up to the edge, becoming a senior resident!) – many of these doctor writers have observed how critical narrative is to interviewing patients, to understanding any part of their experiences. I think the literature on doctors' experiences of learning to listen, learning to understand is valuable and I would say that process of learning to listen and understand continues through a doctor's whole life, long past training.
But having said all that – one thing that is interesting – the relatively few numbers of female doctor writers. Really, Dr. Perri Klass is one who comes to mind. She has a vibrant pediatric and public health practice as well as writing and publishing many beautiful books including one of my favorites, an early novel called
Recombinations,
which I highly recommend. More recently, my beautiful colleague Dr. Seema Yasmin, author of
The Impatient Doctor Lange
(who'll be reading with me in DC at Duende Books on Oct 21!!). People often mention Rivka Galchen, and she's incredibly talented, but she never finished medical school – I love how she writes about science, but she never balanced writing with a life as a doctor. She never balanced caring for patients as a doctor with the project of becoming a writer – she left medical school to complete her MFA.
Many of the characters' names in White Dancing Elephants—women and men—are not of Western origin, and the overall feeling of this naming is one of global humanity. What do you think is the effect on readers?
I'm so grateful and moved by that suggestion, Sandra – honestly, I don't know what to say. If there's even one person who reads my book who's literally never been physically close to a person of color, and then comes away feeling a sense of recognition and kinship – that's really pretty amazing.
Most of the stories in the collection were first published in print and online literary magazines. Over how long a period did it take you to write these seventeen stories? Which story took you the longest? The shortest? Did you struggle with any of them? If so, which ones?
I think "Talinda" was somewhat of a struggle, in that I started in some form maybe like eight years ago, and then tinkered on and off with it, and then just became determined to finish every story that was out there, in a folder marked "unfinished story" – but in general, I do try to watch out for stories that seem completely "hopeless" and like I'll never finish them (like this one) because often they turn out to have real lives of their own and are worth savoring the process of writing and discovering, if that makes sense. I try to savor instead of letting them frustrate me. It also helps to keep the bar low. "This'll probably suck," I tell myself, cheerfully. "No doubt." Sometimes I even title a file, "Dead end story" or "the worst writing ever." Then I go to town. There's probably some Zen koan that such a motto draws its inspiration from.
What was your first piece of writing? How old were you? Have you written continuously since then?
I started when I was four or five; I wrote stories all the time, as well as "critical essays" about various "new reader" books that I read and reread and couldn't find any other way to talk about or continue enjoying. I was a bookish kid for sure. It always felt like no matter what, I could "come back to" writing, and it's only been in the last year or so that, like a lover you always assumed would be there for you but suddenly and hugely panic you could lose, writing has become that lover I've been holding really close.
Were you writing fiction when you were in med school? How do you find the time to write now?
Yes, I was working on an essay collection and the very beginning of a novel that are both nearing readiness to be sent out and my agent is excited about that. It was wonderful to meet terrific editors at
Sewanee Writers Conference
recently. I treasured their words about my work.
I would say rather than "finding" time I just kind of work writing in whenever I can. I actually think it would be much harder to do a more flexible job than being a physician, in the sense that everything I do is driven by others' needs and by a larger structure I'm part of, whereas if I had to also be some kind of entrepreneur and creatively design the structure of my day while also writing, that would be much more difficult. There would be no structure to fall back on. Writing demands some kind of structure.
Mohsin Hamid
talks about going for long walks as an aid to his writing. Garcia Marquez used to talk in interviews about waking at five and doing boxing on the side, which is why so many writers I know do boxing (and why I wake at five). I am immensely grateful to be able to do a job that is rewarding and allows me to help people within a structure that I do not design but actually just have to live within. That leaves any left-over time for writing completely unstructured and free. There are no have to's. I just let myself put down what I am feeling, on the page.
What books did you read growing up? Was there a book that made you want to be a writer?
I really loved Little Women and (without knowing why their descriptions of people of color made me somewhat uncomfortable). I loved the Little House on the Prairie books. Then I loved Indian stories and myths in an entirely different way, and the Amar Chitra Katha Hindu comic book series really opened up my world – it's a beautiful illustrated set of comic books about the Hindu epics, if anyone wants to check that out (delighted recently to learn that Jeff Van derMeer, who was kind enough to blurb my book, has an entire collection of Amar Chitras!)
Toni Morrison, Louise Erdrich, A.S. Byatt, Kathryn Harrison, Eudora Welty, Flannery O'Connor, Margaret Atwood, Alice Munro, Bharati Mukherjee, V.S. Naipaul (much as he made my blood boil) – these were writers I read and reread, along with various old books about Norse mythology, legends, stories, the various Fairy books (Green Fairy, Blue Fairy), tons of international magazines. I basically read everything in our neighborhood's tiny library. And like Sandra Cisneros (whose
House on Mango Street
was formative for me) – it wasn't going to school, but being in the library, that made me want to become a writer.
What books made a deep impression on you when you were in college? Can you draw a line between these books and the stories that you write now?
I feel like in college I had even more access to poetry, and I would point very much to my Modernist Literature class that opened up worlds – I still think about Marianne Moore, T.S. Eliot lines that I was exposed to in that class, that I wrote about here:
On Eliot
.
I also read a lot of short stories, including in a Chekhov class – that was pretty huge. I took writing classes and read a wide swath of all stories of fiction excerpts and stories, ranging from Borges, to Bolaño, to Annie Proulx, that I remember well. Including this wonderful Eudora Welty that was the first I'd ever read in any college writing class:
"Why I Live at the P.O.,"
which I highly recommend. So funny, really. I read and reread
Beloved
in college and it frightened me for how grippingly it represented a kind of supernatural grief. Like only the supernatural and its invocation could ever possibly carry enough weight, enough force, to knock down all the lies and just plain cruelty and greed and human ugliness that made the horrors of slavery happen.
And that Irish Lit class that I took with my dear high school friend Dohra Ahmad, who's now a professor at St Johns University and whose wonderful anthology, Rotten English, I recommend to everyone. That was such a fantastic class – we even got to be on a radio show with Irish hosts who were incredibly funny and brilliant. In addition to reading a lot of Joyce, that was where I got into Seamus Heaney, whose poem "Punishment" provides the epigraph for this book, one of his many big poems where he contemplates both Irish history and the personal history of his own emotional development as a poet.
You are giving a talk on the topic, "How I Became a Writer," to a high school audience. What personal experience about writing would you share with them? And what would you tell them about the act of writing itself?
I would emphasize above all how important it is to just put aside any reservations about how the work will be received and truly, just focus on the writing and everything else will come. Find a way to carve out some sort of discipline. Don't overthink it. Some days you might feel too tired to "produce" something, but you can find a way to scribble a few thoughts down and that can light your way when you're back in the darkness the next time.
Editor's Note: Chaya Bhuvaneswar's debut short story collection White Dancing Elephants, published by Dzanc Books, was a finalist for the 2019 PEN/Robert W. Bingham Prize for Debut Short Story Collection. Read Sandra Fluck's review of White Dancing Elephants.