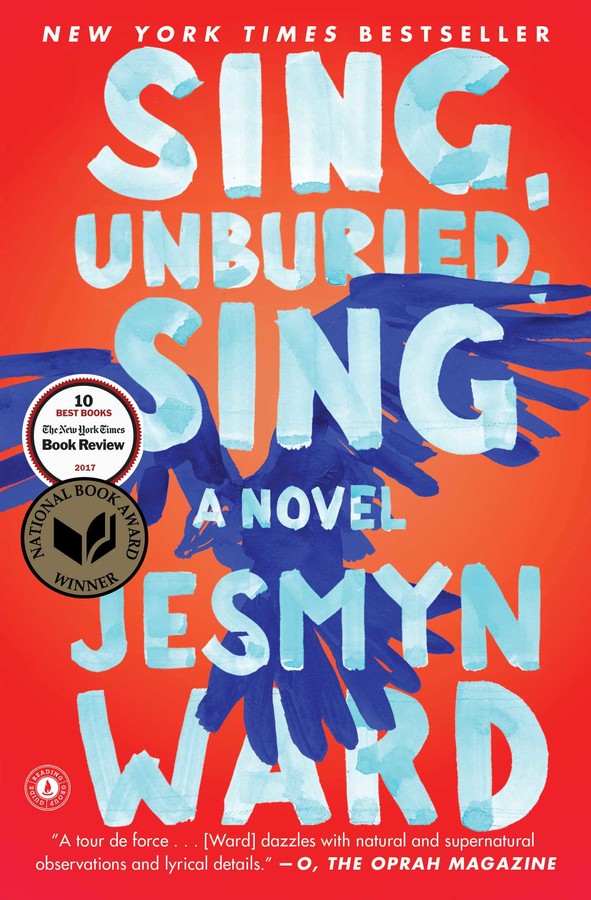 To praise Jesmyn Ward's award-winning lyrical novel, Sing, Unburied, Sing, is to share how it makes the reader feel, how it evokes deep emotions, how it compels us to question what we think we have lived, what we think we know. It is a complex, beautifully written novel that carries us into the past, keeps us in the present, and challenges us in our future.
Sing, Unburied, Sing opens with Jojo, a boy turning thirteen who has already experienced life beyond his years and knows things most do not. As the first line of the novel foreshadows, "I like to think I know what death is. I like to think that it's something I could look at straight." Opening the novel with Jojo's voice is powerful, and he becomes our guide between this world and the other as the novel fills with layers of grief, history, racism, violence, pain, love, and hope.
Jojo lives with his three-year-old sister Kayla (of whom he is fiercely protective), his grandparents, Mam and Pop, and his mother Leonie, on a farm on the Gulf Coast of Mississippi. His white father Michael is in prison. Pop is Jojo's measure to which he compares everything else, and Pop is the father Michael will not be. Mam is dying of cancer. Leonie struggles to surface from her drug addiction, periodically visited by her dead brother. The novel chapters alternate the voices of Jojo, Leonie, and Richie, a young boy whom Pop knew decades ago at Parchman, the state prison where Pop was sent when he was fifteen years old. Richie is a spirit ghost with an unfinished story. Jojo knows the beginning of the story because he repeatedly requests Pop tell it, but he does not know its ending. Pop will not speak it.
The momentum of the novel centers around a trip to the state penitentiary to pick up Michael – a trip on which Leonie, perhaps selfishly, perhaps in an attempt to be the mother she struggles to be, insists on taking Jojo and Kayla. Jojo does not want to go, does not want to spend time with his mother, does not want to leave his grandfather. Leonie insists and, leaving the relative safety of their home, they head North.
On the trip North, Kayla becomes ill, Leonie and her white friend Misty stop to pick up drugs, and Richie's ghost joins them. Jojo and Kayla see Richie, but no one else does. We feel the tension and angst, as prickly as the tree branches in the woods behind Pop's house. And we are witness to Leonie's resentment and anger when she does little to assuage Jojo and Kayla's hunger or heal Kayla's pain. But Leonie is not a person whom we resent, but rather one who forces us to grapple with the structural and cultural forces that have impacted her life.
During the return trip with Michael in the car, they are stopped by a white officer and face a situation that is all too real today. Ward's prose fills these pages with such intensity that we feel Jojo's fear and anger, Jojo's and Kayla's hunger and pain, Jojo and Kayla's love. We, the readers, are challenged to comprehend what we are reading. Poverty, racism, drug addiction, incarceration, despair, solitude — all run just beneath the surface.
Upon the return home, the novel carries us into what feels almost like a second act without the curtain — a telling of the stories yet unresolved. The rest of the novel is brilliant and digs deeper into its ghost story, as Richie needs to hear Pop finish the story and needs Jojo to insist Pop speak it. As Mam needs Leonie to prepare her for death. As the tug of war for the souls of the dead play out in an unforgettable, haunting scene in Mam's room. As the unburied not yet home need to be seen.
Reading Sing, Unburied, Sing is an experience that lingers long after you turn the last page. The suffering, the love, the haunting, and the beauty in both the story and storytelling touch the soul.