Stanley Ann Dunham was a woman who became famous after the fact of her life. She died on November 7, 1995, at the age of fifty-two, thirteen years before her son Barack Obama was elected President of the United States. She lived without regard to the conventions of her time and before the women's movement would change the dynamics of women's status in society. When she was seventeen, she fell in love with a twenty-three-year-old African man from Kenya while they were students at the University of Hawaii. She became pregnant soon after meeting him, they married, and she gave birth to their son, Barack Hussein Obama, II, on August 4, 1961, at the Kapiolani Maternity and Gynecological Hospital in Honolulu, Hawaii, on the island of Oahu. A year later, Barack Obama, Sr., left the family behind to study economics in graduate school at Harvard University. Dunham divorced him in January 1964. That she would marry an African when miscegenation laws were still in force in the United States belies the stereotype that gained traction during President Obama's 2008 campaign for the presidency: His mother was the shy, white woman from Kansas. Her decision to reject the cultural and social norms of her time was a singular act by a young, naïve, idealistic girl in the early 1960s, but it set the tone for how she lived the rest of her life.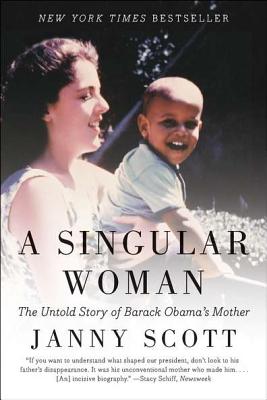 For many, Dunham is known as the mother of the forty-fourth president of the United States who happened to be white, and that's just about all they know about her. Since Obama was elected in 2008, however, she has become famous in her own right: Dozens of articles have been written about her, including an entry in Wikipedia; in 2009 an exhibition of her Javanese batik textile collection—"A Lady Found a Culture in Its Cloth: Barack Obama's Mother and Indonesian Batiks"—toured six museums in the United States, including the Textile Museum of Washington, D.C.; also in 2009, Duke University Press published a redacted version of her 1,043-page dissertation titled "Peasant Blacksmithing in Indonesia: Surviving and Thriving Against All Odds"; a feature documentary, "Ann Dunham: A Most Generous Spirit," by the renowned film director Charles Burnett, is currently in development. Now, Janny Scott, a former reporter for The New York Times, has written A Singular Woman: The Untold Story of Barack Obama's Mother, an in-depth biography that retrieves Dunham from the bin of misrepresentation and "the fevered imaginings of supermarket tabloids and the Internet," where she was called "the atheist, the Marxist, the flower child, the mother who 'abandoned' her son or duped the state of Hawaii into issuing a birth certificate for her Kenyan-born baby on the off chance that he might want to be president someday." No one who gets to know Dunham in the pages of Scott's biography would recognize the woman described in these foolishly misleading representations of her. Scott forces Dunham into the light of day and presents an accomplished woman: A brilliant anthropologist, a meticulous field researcher, a forerunner of the microcredit movement, and a dedicated public servant.
Interest in Dunham stems, of course, from her family relationship with Obama, one of several important reasons to write a biography about her—maybe she can provide some clues about his temperament and help to settle the disparate and contradictory perceptions of him: Cool, reserved, somewhat aloof, a private man who has trouble connecting with the public. A compromiser who fails to stand up for his principles, thus making him look weak, ineffective, and indecisive. A president who is bent on destroying America: An anti-business, pro-regulation, taxing, big government socialist. In the prologue to A Singular Woman, Scott states that her book is about Stanley Ann Dunham, not about President Obama. But you cannot read this biography without seeing both the physical and personality similarities between Dunham and her son. When you see pictures of him with his mother or grandfather, you can see the son and the grandson in them. The resemblance is striking: "His long chin, the toothiness of his smile, the angle of his ears." You will also see a woman who holds her chin up slightly, a pose the President perhaps imitates, for which he has been called arrogant and aloof. The similarities do not end with the striking physical resemblance between them. He also shares a temperament and personality traits with his mother that are not merely surface ones. After all, she was his mother who helped to shape him, just as her parents shaped her and with whom he lived during his adolescence.
What kind of a person was she? And what similarities do mother and son share? Dunham was a private person who offered the details of her life sparingly and only with her closest friends: Many did not know that she had married and divorced a Kenyan man who was the father of her son "Barry"; that she was divorced from her second husband Lolo Soetoro, an Indonesian, whom she had met at the East-West Center at the University of Hawaii; or that she was a single mother raising two biracial children. She was the ameliorative type who did not like conflict; in the field in Indonesia where she did research for her doctorate in anthropology, she mediated angry situations and "generally tried to lower the tone of the tension." Many people Scott interviewed described her as intelligent and intellectual, with a sense of humor that was funny but also dry and ironic. She regaled "her colleagues with humorous stories, joking about one day being reincarnated as an Indonesian blacksmith, and protesting slyly all the while that she was 'just a girl from Kansas,' " one interviewee told Scott. She believed that people must live by their values, and she told her son, " 'If you want to grow into a human being, you're going to need some values.' " Dunham took her life seriously and lived according to her principles, committed to serving the poor in the rural areas of Indonesia, and instilling in Obama "a sense of obligation to give something back." She confided to a friend in the early 1990s "she wanted him to start off…with the attitudes and values she had taken years to learn." When Scott interviewed Obama's half sister Maya Soetoro-Ng, Maya described what it was like to be the children of Ann Dunham: " 'We were not permitted to be rude, we were not permitted to be mean, we were not permitted to be arrogant…. We had to have a certain humility and broad-mindedness. We had to study. If we said something unkind about someone, she would try to talk about their point of view. Or, 'How would you feel?' " Obama has also often mentioned how his mother compelled Maya and him " 'towards empathy and those kinds of things, and not allowing us to be selfish. That was constant, steady, daily.' "
Elizabeth Bryant, an American who was living in Yogyakarta, Indonesia, in 1971 when Dunham was living in Jarkarta with her nine-year-old son and infant daughter, told Scott the story of her first meeting with Ann Dunham at a lunch at Bryant's home. When Scott interviewed her in Southern California thirty-eight years later, she remembered the encounter in detail, perhaps because it revealed much about Ann Dunham (then Ann Soetoro) and her son whose nickname was Barry. Dunham was getting ready to send Barry back to Honolulu to live with his grandparents to attend Punahou School, an elite college preparatory day school. Bryant told Scott that Barry "sat at the dining table and listened intently but did not speak. When he asked to be excused, Ann directed him to ask the hostess for permission." After lunch, they took a walk and Barry ran ahead. Some Indonesian children began throwing rocks at him, teasing him, and "shouting racial epithets. He seemed unfazed, dancing around as though playing dodgeball…. Assuming she [Ann] must not have understood the words, Bryant offered to intervene. 'No, he's okay,' she remembered Ann saying. 'He's used to it.' " Bryant was floored that Dunham would " 'bring a half-black child to Indonesia, knowing the disrespect they have for blacks. It was unusually bad.' " Bryant admired her "for teaching her boy to be fearless." Bryant also told Scott that Barry displayed a politeness that was typical of Indonesian children. And she makes a poignant observation about President Obama: " 'I think this is one reason he's so halus, [Indonesian meaning "polite, refined, or courteous"]…. It's because of his Indonesian background. I think he's a mixture of cultures, and that makes him more worldly. He has the manners of Asians and the ways of Americans—being halus, being patient, calm, a good listener. If you're not a good listener in Indonesia, you'd better leave.' "
And, yet, as much as Obama seems like his mother in many respects, significant differences between them attest to the singular woman that she was. Maya told Scott that her mother took after her father Stanley. "They were 'people of appetites'—not content with small portions or small vistas, 'not willing to walk in the same circle.' They were gregarious and loquacious. They loved food, words, stories, books, objects, conversation." In Indonesia, Dunham presided over lively dinner parties—the grand lady, the charming host. On Thanksgiving she hosted a "Ducksgiving" feast, inviting friends, colleagues, and younger volunteers to help pluck and cook several ducks. As one guest remembers her at the time, " 'Ann was extremely gregarious and, of course, entertaining and fun…. She was generous-spirited.' " Like her father, she was also restless, moving from job to job and taking a leave of absence from graduate school on several occasions to earn an income to support her family.
Dunham and her mother Madelyn, however, were opposites—Ann joked later in life that her mother's favorite color was beige. Madelyn "was practical and down to earth," "sensible and unsentimental," the reliable bread winner who ensured that her daughter would get a college education in spite of her being a mother at such a tender age. Madelyn was also the woman "who would subsidize the education of her grandchildren in one of Hawaii's most respected private schools." She was smart, worked hard, and eventually became one of the Bank of Hawaii's first female vice presidents. According to Maya, her grandmother wished Ann " 'would be more sensible and get a house and learn to drive and sit still.' " Perhaps Madelyn felt that her daughter was too much like her husband Stanley, and she hoped that Ann would eventually become more like her. Maya told Scott that if their grandmother " 'had not been there, in the wings, making sure that we had savings accounts and school tuition taken care of and that sort of thing, maybe I would have felt more torn about the way that I was raised…. And so on some level, I would say that our grandmother gave our mother the freedom to be the kind of mother that she was.' "
Settling down was not Ann Dunham's style. Dunham had another idea in mind: Improvising her life. "Continually dislocating the center," she traveled between Hawaii and Indonesia, spending over half of her adult life apart from her son, worrying about money, never learning how to drive, and fearing doctors—to her great detriment. As Scott poignantly states: "If Ann had a plan, it did not involve sitting still."
Stanley Ann Dunham was born in Wichita, Kansas, on November 29, 1942, to Madelyn Payne Dunham and Stanley Dunham, whose immediate families had settled in the early twentieth century in the Flint Hills, "a two-hundred-mile-long band of grassland that is the largest unplowed vestige of the tallgrass prairie that once dominated North America's midsection." Madelyn Payne and Stanley Dunham were native Kansans, but after they married in 1940 they bolted for the west coast, returning to Kansas only sporadically after Stanley Dunham dropped out of college, or lost a job, or joined the Army during World War II. The family led a peripatetic life, a pattern their daughter Ann would follow in her adult life. Scott tells how Dunham, "by her fourteenth birthday…had moved more often than many Americans in those days moved in a lifetime"—from Kansas to California, from California back to Kansas, from there to Oklahoma to Texas and back to Kansas, from Kansas to Seattle and Mercer Island, where they lived for four years during which time Dunham attended Mercer Island High School. They made their last move to Honolulu, Hawaii, in 1960, one year after Hawaii was admitted to the union.
During the four years the family lived in Mercer Island, Dunham enjoyed a stabile life she could only welcome. She excelled in school, met "the first set of close friends she had ever had," socialized with the "higher-percentile" students, fell in with a group of guys with whom she "shared the boys' highbrow pretensions," and cultivated a personality that would flourish in her adult life in Indonesia. She was only thirteen years old when she began her freshman year at Mercer High School, a brand-new school. Her seriousness made such an impression on her high school social studies teacher Jim Wichterman that he remembered her fifty years later when Scott interviewed him: " 'She seemed interested in the material, interested in ideas. Neither overtly rebellious nor a joiner, she found her way eventually into that mostly male circle of academically high-achieving nonconformists outside of the force field that surrounded the star athletes.' " Described by her classmates as "more mature intellectually than socially, more confident of her brains than of her appearance," Ann Dunham defined herself by her intellect.
When her parents decided to move to Honolulu after her graduation in 1960 from Mercer High School, Dunham was disappointed that she was moving again, particularly because she had planned to attend the University of Washington with her friends. She had been admitted to the University of Chicago, according to Dreams From My Father, but her father thought she was too young to be living on her own. As one of her friends Maxine Box told Scott: "She was upset that she had to move…She didn't really have any choice."
Ann Dunham enrolled in the University of Hawaii in September 1960 as a not-quite-eighteen-year-old; met Obama, Sr., who was a student of economics in the College of Business Administration; fell in love with the charismatic older man; and was pregnant by November. Obama, Sr., "the tall, well-built African," impressed not only Dunham but also the professors and students at the university. Some who knew him told Scott that he commanded attention: People listened when he spoke in his "booming baritone" that reminded them of Paul Robeson. With her pregnancy, her subsequent marriage to Obama, Sr., and the birth of her son Barack, her life had taken off in a direction her friends at Mercer High School could never have imagined.
Perhaps, as a nineteen year old, Ann Dunham could not have imagined the direction she was about to take either. But it was in the choices she made during her adult life that Dunham the woman parts company with Ann Dunham the mother of the President of the United States. She—the anthropologist, the researcher, and microfinance expert—is the Ann Dunham of A Singular Woman. Dunham followed her instincts to Indonesia where she lived between 1967 and 1995. A foreign country most Americans at that time did not know, Indonesia is today the fourth most populous country in the world and has the largest population of Muslims. Dunham went to Indonesia to live in Jakarta with her husband Lolo, the father of Obama's half-sister Maya, but she would split her time between Indonesia and Hawaii, where in the fall of 1974 at the University of Hawaii she completed the course work required for her Ph.D in anthropology. She would be separated from Soetoro off and on over the sixteen years they were married, until they divorced in 1980, partly because she would not abide the "proper" role of the Indonesian wife.
Dunham spoke Bahasa Indonesia, the official language, fluently, which most expatriates did not speak, and this fluency allowed her to move more freely in the villages where she conducted her field research. She loved Indonesia, and if circumstances in her other life in Hawaii had been different, she probably would have never left. Being an expatriate, she remembered always to be an American, but she assimilated to the degree that "she spoke the language, ate the food, sat with her legs folded under her on the floor. She accumulated Indonesian friends and ran her household in an informal, open Indonesian style," Scott reports.
As Dunham was doing her field research in Indonesia, she became fascinated with the art of blacksmithing and the blacksmiths' rituals around the kris (an asymmetrical dagger, considered both a weapon and a sacred object). She found a niche for her study of blacksmithing in Kajar, a cluster of hamlets in Central Java, where "hundreds of village men worked as blacksmiths at backyard forges, hammering agricultural tools out of old railroad rails and scrap iron." It would seem a natural fit that Dunham would focus on Kajar: A frequent visitor, she respected the villagers and was respected in return—they thought of her "as a good woman." Her high regard for the blacksmiths and their industry allowed her to see the occupation from the point of view of the entrepreneurs themselves. Analyzing the data she had collected, she concluded that "metalworking was more profitable than agriculture in a number of villages she had studied," and, therefore, it was their primary occupation—not agriculture. Blacksmithing had a viable future, she thought, a conclusion at odds with the analysis of most economists and bureaucrats at the time that had predicted "the demise of village industries since the late nineteenth century." In a review of the redacted version of her dissertation Duke University Press published in 2009 titled Surviving Against the Odds: Village Industry in Indonesia, Michael Dove, a Yale anthropologist and longtime friend of Dunham, wrote in a review that her study of Kajar is " 'one of the richest ethnographic studies to come out of Java in the past generation. This sort of long-term, in-depth, grand-level study, once the norm in anthropology, is increasingly rare.' Ann had concluded that development in the villages she studied was held back not by a lack of entrepreneurial spirit but by a lack of capital—the product of politics, not culture."
Although it took Dunham almost twenty years to complete her graduate work and write her dissertation, Alice Dewey, a professor of anthropology at the University of Hawaii and the granddaughter of the American philosopher John Dewey, gave her a wide berth during that time. As her adviser and friend, Dewey knew Dunham over a long period of time. She told Scott: "The dissertation would be worth the wait…. 'Ann would run out of money and go take a job,' she recalled. 'Not washing dishes. She was building up more data. So she would come and go constantly. We knew she was the kind of student who was going to end up knowing three times more than we did—in our specialties. So we just let her go.' " Dewey's perceptive comment encapsulates the Ann Dunham we come to know in the pages of A Singular Woman:
Would anyone have known about Ann Dunham if her son had not become the President of the United States? Like so many professional and accomplished women who have served with intelligence, compassion, and generosity, she would have gone unrecognized, as she did during her lifetime, even after the media began to pay attention to her son. It was a bittersweet moment for her when Obama was elected president of the Harvard Law Review in 1990 at the age of twenty-eight, " 'its first black president in more than 100 years of publications,' as the Associated Press reported on February 5, 1990, the day after the election." It was a big deal, it seemed. In an article in The New York Times, both of his parents were mentioned, his father "a former Kenyan government official" and his mother " 'an American anthropologist now doing field work in Indonesia.'" A week later, a more detailed article appeared in The Boston Globe; it "dwelt at some length on the influence of Obama's father" on his son. It gave little import to Ann Dunham, saying nothing more than " 'his mother, who is white, is a Kansas-born anthropologist who now works as a developmental consultant in Indonesia.' " Scott notes that "the marginal role to which Ann was consigned in those accounts did not go unnoticed" by her. Scott states: "She had raised Obama, with the help of her parents, after his father had left for Harvard when Obama was ten months old. She had been his primary parent for the first ten years of his life. She had returned to Hawaii to live with him when he was in middle school. She had moved back to Hawaii from Indonesia for several months during his senior year. Yet in those accounts, Obama had been a 'street kid' in Indonesia, then sent back to Hawaii to be 'raised by his grandparents.' " Scott emphasizes that Dunham was "extraordinarily proud of her son." She had seen him as "unusually gifted. She would boast about his brains, his achievements, how brave and bold he was." But "on another level she seemed crushed" after she had read the articles about his being elected president of the Harvard Law Review. Dunham told a friend: " 'I was mentioned in one sentence.'"
Except for the scholars and anthropologists who worked with Dunham in the field; her advisers at the University of Hawaii who oversaw her progress on her dissertation over a period of sixteen years; and her colleagues with whom she worked at her numerous jobs, Ann Dunham would not have attracted attention if her son had not become famous himself. And if Scott had not written A Singular Woman, we would have missed out on getting to know a woman who dedicated her life to better the lives of poor people; who understood and respected the richness of Javanese culture; who saw the important functional role of cottage industries in Indonesia and understood microfinance long before it became a movement; who wrote a long dissertation on the sacred art of blacksmithing; who advocated for women throughout her life whenever and wherever she perceived women at a disadvantage; and who served the public good wherever she was employed—whether it was in 1968 at her first job with Lembaga Indonesia-Amerika, a binational organization in Jakarta; or in 1979 as a consultant in international development in Central Java on a project funded by the U. S. Agency for International Development; or in 1981 with the Ford Foundation as a project director researching rural employment and the role of women at the village level.
In 1988, Dunham became part of a team in Indonesia working on a microfinance program—"making small loans to low-income rural people." The Bank Rakyat Indonesia started the microfinance project in 1984 and Dunham worked, on and off for four years, "as a research coordinator and consultant under three separate contracts funded by the World Bank and the U.S. Agency for International Development." Given her anthropological background, expertise in data-driven research, and an intimate knowledge of Indonesian villages, she was an asset to the program. Her job: To conduct market research and use the results to "fine-tune and measure the success of the microfinance program" to convince the banks to increase the size of the loans. In 1999, James Fox, an anthropologist who praised Dunham's dissertation "as a reference point for years to come," described the microfinance program of the Bank Rakyat Indonesia probably " 'as the single largest and most successful credit program of its kind in the developing world.' "
Dunham continued her work on microfinance in the early 1990s at Women's World Banking in New York City, an organization that was "governed by women and run by women and existed first and foremost for the benefit of women." When she was interviewed for her job, the president of Women's World Banking saw that she "had more experience with poor women than anyone" in the office, and she was impressed with the work Dunham had accomplished in microfinance at Bank Rakyat Indonesia. However, Dunham did not like her job at Women's World Banking and she did not like city living; she missed Indonesia and her friends there. Still, she performed outstanding work. The United Nations Fourth World Conference on Women was going to be held in Beijing in 1995, and Dunham "made the case to Barry [the president of Women's World Banking] that Women's World Banking ought to play a role in organizing many of the disparate microfinance institutions into a movement. If a coalition of organizations could agree on an agenda and demonstrate the contributions of low-income women to economic development, it could catapult the issue of microfinance into a prominent place in the 'platform of action' " in Beijing. Barry was persuaded. Dunham succeeded in getting all the coalition members to show up and endorse a final report that was "considered a huge achievement in the world of microfinance." No one before had stated so clearly why it was important to lend money to women. The report was typical of Dunham's attention to detail and to her unwavering commitment to women and the poor. Wherever she worked, she was admired for her intellect and her work ethic, and she was loved for her humor and generous spirit.
By December 1994 Dunham "was in constant pain and barely able to digest food." On January 25, 1995, she left Indonesia for Hawaii for the last time, twenty-seven years after she first arrived there in 1967. Though she had been having health problems for at least five years, she had been trying desperately to ignore them. In February 1995 she was diagnosed with third-stage uterine and ovarian cancer. The disease had spread to her abdomen; she had a hysterectomy and then six months of chemotherapy. Not getting any better after this treatment, in mid-September Dunham and her mother Madelyn visited the Memorial-Sloan Kettering Cancer Center to get a second opinion. Scott reports: "On the basis of the re-evaluation of the tumor cells and the pattern of the illness," the oncologist believed she had fourth stage uterine cancer, not third stage ovarian cancer. Dunham had fought for her life for almost a year, and she would survive another two months. Maya, who was twenty-five years old, was at her mother's bedside when she died. Maya told Scott about the last minutes of her mother's life: As her mother lay unconscious, Maya talked to her "about all that Ann had given her, about how she would be remembered with love." She said: " 'I told her finally that she should go, that I didn't want to see her like that…. And she was gone about fifteen minutes later." Obama was home in Chicago when he heard that his mother had died. In an interview with Scott, he told her that he had last seen his mother in New York City in September and had last spoken to her a few days before she lost consciousness. After her death, the family and close friends gathered in the Japanese garden behind the East-West Center in Honolulu, a place Scott describes as "the institution that embodied, more than any other, the spirit of the time in which Ann had come of age and the values by which she had lived." Then they drove out of Honolulu to the Kalaniana'ole Highway, and at a scenic lookout, "gripping each other against the wind, Barack and Maya carried the ashes of their fifty-two-year old mother across the water-slicked rocks and delivered them into the rough embrace of the sea."
Barack Obama has said that not seeing his mother before she died was the biggest mistake he made. She had always told him: "If nothing else, I gave you an interesting life." Of course, she gave him much more. When Scott interviewed Obama in July 2010, he said that his mother "gave him the single most important gift a parent can give—'a sense of unconditional love that was big enough that, with all the surface disturbances of our lives, it sustained me, entirely.' People wonder about his calm and even-keeled manner, the president observed. He credited the temperament he was born with and the fact that 'from a very early age, I always felt I was loved and that my mother thought I was special.' " He made many decisions based on the example his mother had set for him, and "his decision to go into public service…grew out of values she instilled—'a sense that the greatest thing you can do in the world is to help somebody else, be kind, think about issues like poverty and how can you give people a greater opportunity?…. So I have no doubt that a lot of my career choices are rooted in her and what she thought was important.' "
In President Obama's speeches—his Keynote Address at the Democratic National Convention in 2004 that electrified the nation and made him an overnight sensation; his speech on race, "A More Perfect Union," during the 2008 campaign; his acceptance speech at the Democratic National Convention in August 2008; his Election Night Victory Speech on November 4, 2008; his Inaugural Address on January 20, 2009—he repeats his belief that "we are connected as one people." There is one speech, however, that is not as well known as the above speeches, but it reveals Ann Dunham's profound influence on her son. In December 2004, before Obama was sworn in to the United States Senate, he visited his high school alma mater Punahou School in Honolulu. In his address to the audience, he "recalled a thought-provoking ethics class he once took." He asked: "What does it mean to live in a diverse society? What does it mean to treat people with respect and dignity? What do we owe other people who are less fortunate than ourselves?" It was not in his ethics class at Punahou when he first became aware of these ethical questions. He grew up with them. He might as well have been channeling his mother.
In A Singular Woman, Scott emphasizes how much a part of the American story Obama and his family really are "in its mixing of races, ethnicities, nationalities, and cultures." President Obama has often expressed gratitude for being born an American, because, he says, "in no other country on earth is his story even possible." For the man that he is, and the success he has found, he can thank his mother Stanley Ann Dunham. She gave him an adventurous life and instilled in him the ideals, values, and vision by which he leads the country.