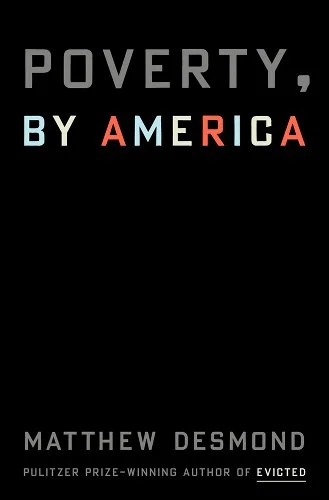 "When you have a country like ours, where there are millions of poor people living alongside millions of people with considerable means, a system locks in—a system for private opulence and public squalor."—Matthew Desmond (From a March 21, 2023, interview with Fresh Air's Dave Davies.)
*
POVERTY is one subject Matthew Desmond knows intimately. That he has personally experienced what it is like to grow up poor in the richest country in the world, and received a Pulitzer Prize for writing about it, sets him apart from other sociologists who study only the poor, but not why they are poor. In his newest book, Poverty, By America, Desmond examines in depth the causes and consequences of the abject poverty affecting millions of Americans.
"Poverty isn't a line" he writes, referencing the official demarcation line that separates poverty from affluence. "It's a tight knot of social maladies. It is connected to every social problem we care about—crime, health, education, housing—and its persistence in American life means that millions of families are denied safety and security and dignity in one of the richest nations in the history of the world."
Once and for all, Desmond's unflinching deep dive into the mechanisms of US poverty debunks the prevailing myths about it that have been perpetrated since the eighteenth century to keep the poor forever poor. Every chapter of Poverty contains substantive facts and figures that reveal a startling truth: poverty continues unabated because it benefits the rest of us.
"The American government gives the most help to those who need it least," Desmond says. "This is the true nature of our welfare state, and it has far-reaching implications, not only for our bank accounts and poverty levels, but also for our psychology and civic spirit."
To be poor in America, according to Desmond, means not having the freedom to choose where you live, what schools your children attend, or even the financial institutions you use. The poor are constrained in every aspect of their lives, resulting in poor physical and mental health, vulnerability to crime, and routine victimization by money lenders and landlords.
To make the situation for those living in poverty even more untenable, Desmond reveals that of the 31.6 billion dollars designated for their relief, those in need receive only 7.1 billion. Additionally, for a variety of reasons, including old-fashioned pride and a maelstrom of bureaucratic red tape that hinders access, a significant number of families struggling to make ends meet never apply for aid in the first place. Instead, they rely on what Desmond calls the fringe banking sector—payday lenders such as Advance America and Cash America, which charge exorbitant interest fees on short-term loans that further burden those with no access to traditional banking.
As with banking, there are also two housing markets and two labor markets—one for the poor and one for the rest of America. "The duality of American life can make it difficult for some of us who benefit from the current arrangement," Desmond explains, "to remember that the poor are exploited laborers, exploited consumers, and exploited borrowers, precisely because we are not."
If most Americans with means have difficulty coping with the rising costs of everyday living, including record-high food costs and rents that have increased by 325 percent since 1985, as well as the most expensive healthcare system anywhere in the world, how can we expect the poorest among us to make any headway?
Despite the sobering statistics that Desmond presents in Poverty, By America, he remains optimistic that we can find our way out of our current inequality by becoming Poverty Abolitionists, and spending $177 billion. He believes that by changing our current negative attitudes about those living in poverty, we can make a difference. He calls upon us: "Lift the floor by reinforcing our social safety net; empower the poor by reining in exploitation; and invest in broad prosperity by turning away from segregation. That's how we end poverty in America."
Matthew Desmond holds the Maurice P. During chair of Sociology at Princeton University. His previous book, Evicted, Poverty and Profit in the American City, won the Pulitzer Prize, the National Book Critics Circle Award, the Carnegie Medal, the PEN/John Kenneth Galbraith Award for nonfiction, and was selected as one of the best books of 2016.